Bezzera 70s spring lever machine restoration
Posted:
Wed Apr 11, 2007 10:37 am
A couple of weeks ago I ran into a Bezzera spring loaded levermachine from the 70s. Bought it, had to drive 2,5 hrs to pick it up, 2,5 hrs driving back.
It was very dirty and very neglected, no original driptray, leaking water, ripped HX-tube etc etc.
The next couple of days we completely restored the machine, replacing all gaskets and rubbers, cleaning and descaling everything. Fixed the HX-pipe in the boiler (was ripped open so boiler always overfilled). Had to make a boiler gasket from teflon.
And while we were at it I decided not to use the old outer casing (which is dead-ugly in my opinion) and we had to do some casemodding.
Replaced the rather flimsy internat hto water and steam taps for external sturdy Astoria taps. Also fixed a build-in manometer in the frontpanel.
Last things to do were making the stainless steel cover and cup warmer tray.
Well, now it's finished and I made some very nice espressi with it... definitely a keeper. Unfortunately there is still one part defective... the p-stat. I have to set it anew each time I heat the machine from cold. As long as it's on it will be ok and stay within the set margins. If the machine has been off and cooled down the p-stat suddenly is set at 2.2 bar.... which of course means the safety valve on the boiler kicks in resulting is a sh1tload of steam and water in the kitchen.
Am thinking of PIDing the machine, see post in members clubroom.
Enough text.... they always told me a picture says more than a thousand words so here goes....
Click on a picture to see the large (huge) version.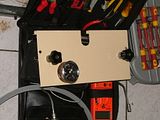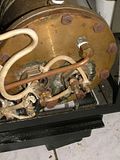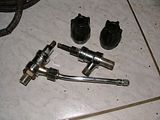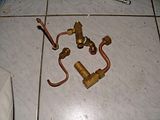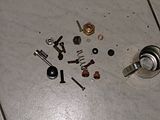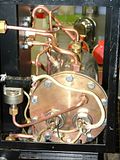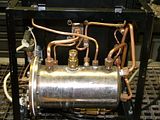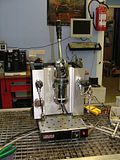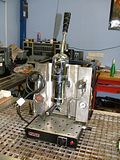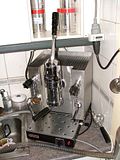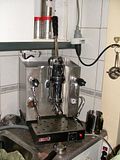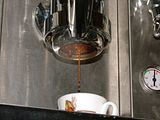 I would like to thank Youri for helping me out... couldn't have done it without him...